Video Poker is a game of draw poker, where the player is dealt 5 cards, face up. The player then chooses which cards to keep or "hold", and which cards to discard. To "hold" the card you want, simply click on it. Click the "Deal" button and new cards will be dealt where the discarded (non-held) cards once appeared. The total of the 5 cards that you now have is your final hand. Your final hand determines whether you win or lose the game.
There are many different variations of Video Poker you can play, most online casinos offer the following for you to choose from:


Aces & Eights, All American, Bonus Deuces Wild, Bonus Poker, Bonus Poker Deluxe, Deuces Wild, Double Double Bonus Poker, Double Jackpot Poker, Double Bonus Poker, Jacks or Better, Joker Poker, Loose Deuces, Mystery Bonus Poker, Pick 'em Poker and Sevens Wild.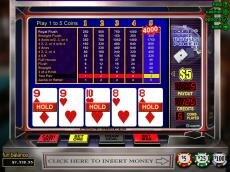 Video Poker "hands" are generally ranked in the order based on the following table, but the game-specific pay tables may vary and are always posted on the machine. In a Double or Nothing round, wild cards are ranked higher than all other cards.
| | | |
| --- | --- | --- |
| Hand Name | Description | Example |
| Sequential Royal Flush | Exact order of 10, J, Q, K, A | 10S, JS, QS, KS, AS |
| Royal Flush | 10, J, Q, K, A of same suit | 10H, QH, JH, AH, KH |
| Straight Flush | In sequence, 5 cards of same suit | 3S, 4S, 5S, 6S, 7S |
| 4 of a Kind | 4 cards of same rank | 6D, 6S, 6C, 6H |
| Full House | 3 of a kind, plus a pair | 2H, 2D, 2S, 3H, 3S |
| Flush | 5 cards of same suit | 2D, 4D, 6D, 8D, 9D |
| Straight | 5 cards in sequence | 3H, 4C, 5H, 6S, 7D |
| 3 of a Kind | 3 cards of same rank | 7H, 7S, 7D |
| 2 Pair | 2 pairs of different rank | 4H, 4S, 6D, 6S |
| 1 Pair | 1 pair (2 cards) of same rank | KD, KH |

Step aboard the River Belle Online Casino with a free sign-up bonus of up to $100 extra FREE to get you started, a variety of games and complete security for your peace of mind!