Need to Know Information for Playing Online Blackjack
BlackJack can be a very exciting game. You can increase that excitement if you know how to act in some key situations. Doubling down and splitting at the right opportunities adds a whole new dimension to the experience of BlackJack.
Get your $1000 Free at 7 Sultans and win at BlackJack
The Double Down
There's no feeling like being at the table and hitting the right card hand after hand. On the flip-side, you can also be experiencing a teeter-totter ride where you feel like you're not getting ahead, just trading chips back and forth. Then it happens! The dealer gives you a six and a five and flips himself a six. The adrenaline surges! Alright - DOUBLE-DOWN your bet and pray that you are dealt a 10 or face card and watch the dealer bust. You'd be hard pressed to find anyone who would advise against a double down in that situation. Fact is, most strategies suggest you double-down on an eleven no matter what the dealer is showing (except when the dealer is showing an Ace where a double down would be considered an aggressive move).
Doubling down is a good choice anytime you have 8, 9, 10 or 11 and the dealer is showing anything less than 7. Also, if you've got an Ace and a 2 thru 5 when the dealer is showing a 5 through 6, the double down bet should be made as you are planning on the dealer busting in those situations.
Double-down opportunities can allow you to make a lot of money quickly at the blackjack table.
Splitting
Splitting cards is an exciting opportunity, in certain situations. When the dealer has dealt you a matching pair you are given the opportunity to split. With an additional bet equal to your initial bet you can have a second hand to play and an additional chance to beat the house.
While splitting the cards and gaining a chance to double your anticipated win may seem appealing, it is not advisable to do so in all situations. Never split tens, fours or fives. You are better off keeping the twenty or hitting to get to eighteen or twenty. When dealt 2 Jacks against the dealer's four, five or six, it may seem like a good idea to split those Jacks and get two winning hands. Don't be fooled. Splitting an almost sure thing such as a 20 is not a good choice. Players sometimes get greedy and make the wrong decision, only to end up with two weaker hands.
Aces and eights should always be split. Split the aces for the obvious reason that you hope to get two 21's rather than having to hit a twelve; and split the eights because two eighteens are better than one sixteen.
If the dealer is showing a bust card (4, 5 or 6), it is advisable to split 2's, 3's, 6's, 7's, 9's in addition to 8's and Aces (split everything except 4's, 5's and 10's).
When the dealer is showing six or less, 9's can be split.
Insurance
The option to purchase insurance is given to the player anytime the dealer is showing an Ace. The expectation is that the dealer with have a BlackJack. Insurance is a side-bet. The insurance costs half of the original bet and if the dealer has BlackJack it pays 2:1. The end result is the player breaks even as the insurance payout covers the original bet that has been lost. If the dealer doesn't have BlackJack, then the insurance bet is lost and the game continues.
If the player has a natural blackjack against the dealer's ace, the dealer will generally offer insurance or an even payout rather than the 3:2 payout. Taking insurance in this case reduces the payout to even money anyway, so why take it on the more likely chance that the dealer doesn't have blackjack?
So when do you purchase insurance? Generally the insurance bet is only advisable if you are counting cards. Since many land based casinos and most (if not all) online casinos use continuous shuffling techniques, there is little merit to making the insurance side-bet.
Surrendering
Surrender? Throwing in the towel? It is an option on the Vegas strip. However, it is not common in the online version of BlackJack. Basically, if the dealer is showing an 8, 9, 10 or Ace and the player has a weak hand, such as a twelve, the player can surrender his hand at the expense of half the wager. Most likely a good choice if the player has anywhere from twelve to sixteen.
With frequent play the logical choices will become more and more obvious.
Play blackjack for Fun or Real at Casino Classic!

The best place to play BlackJack online is at Casino Classic. Casino Classic's blackjack allows you to play Classic Blackjack. It is played exclusively with a single 52-card deck, as this offers you the best possible chances of winning. Like any other game Blackjack has certain rules. This version of Blackjack is played with a single deck of cards, which is shuffled after the completion of every hand / game.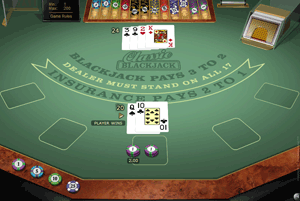 Casino Classic delivers on entertainment value. Get $500 free to try your blackjack skill out today. Play with $500 and you keep what you win!
Try Real Time Gaming Casino Blackjack Games at Casino33
Try the blackjack games at Casino33 and get 200% match up worth up to $1000! Deposit $50 get $100 FREE, play with $150. You'll be able to play blackjack for quite some time with a $150 free cash balance.

1. For a credit card deposit: Get a 200% Bonus up to $1000 on your first deposit.

Redeem Coupon Code BLACKJACK200 in the Redeem Coupon section of the cashier after making your first deposit, but before making any wagers to take advantage of this amazing offer!

Click any of these links to practice blackjack for free: